2020 is the year of the rainbow turtle!
 Help our slow friends come in first! Join a turtle walk
Turtles Need Our Help. Watch: Why we need turtle walks in Ontario? (link)
Turtles live a long time, but, it takes about 60 years for one snapping turtle to replace itself.
Turtles are the best cleaners of our lakes and water! Without them in lakes, all wildlife would suffer. Turtles are the most endangered animals in the world. Turtle Walks are 2 km walks held during the Strawberry Moon, the full moon at the start of June. This is the most active time for turtle nesting and when turtles are near roads! Walks raise funds and awareness too! Become an annual online fundraiser or collect pledges for a walk. All proceeds support turtle recovery, from prevention to cure.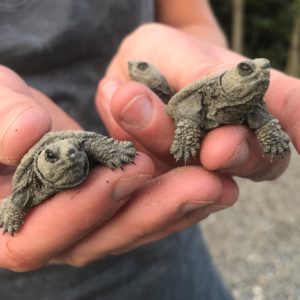 Donations are in support of the T-5 Campaign (Turtles, Teaching, Tracking, Tunnels and Trauma care). Our goal is to raise $100,000 each year to support the recovery of turtle populations in Ontario, from start to finish: from prevention to cure.
Call: 705-457-1222 (The Land Between head office and Turtle Guardian Headquarters) or 705-85-HELP-T (705-854-3578)
Turtle Walks are supported by the Turtle Guardian Program and partners with administration provided by The Land Between Charity #805849916RR0001
Thank you to our Walk Sponsors:
---
Turtle Walks are a project of Turtle Guardians – a Collaborative of Partners: